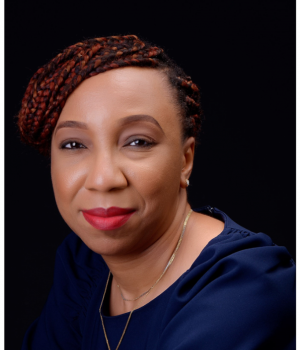 Sandra Ilofuan
Services Director
Tetra Pak West Africa
Sandra Ilofuan is the Services Director in Tetra Pak West Africa. She heads and is responsible for all technical sales and support within the 21 markets covered by Tetra Pak in the West African region, and is herself located in Lagos, Nigeria.
She has an educational background in Mechanical engineering, as well as over 15 years' experience in sales, customer management and service, as well as driving quality and operational improvements.
In her previous roles within Tetra Pak, she handled Global, Strategic and Key accounts, as well as contributed to various diverse teams and projects. These included delivering as well as receiving training on various subject matters from Transformational Leadership, Decision making Strategies to more technical subjects like Supply Chain improvements and SAP implementation.
She believes in challenging the status quo, striving for results while keeping the important things (people, wellbeing, processes) in mind and is an avid learner, even from mistakes. These are what get her up in the morning.
However, Sandra does not believe it is all about work. She is a wife, a mother of two girls and resides with her family in Lagos. She recently rediscovered reading as a new hobby and now has a collection of over 300 (physical books) in her home, over the last 2 years. She is passionate about music and movies – enjoys lone movie binge outings at the cinema, and recently added reading fictional books to her passions. She loves to travel, meet new people and has visited various countries in 5 out of the 6 continents – which is on her bucket list.
Not a sports fanatic, she also recently added evening walks to her hobbies which enables her to wind down from her usual busy day at work. Her retirement plan is to open up a children's hair salon based on an unpleasant experience which fired up her interest in making kids look good and feel good after a day at the kiddies' salon!